ENCLOSURES BUILT FOR A LIFETIME!!!
About Us
With more than 15,000 satisfied customers and 33 year's experience designing and building quality custom products, Lifetime Enclosures literally has a showroom in every neighborhood. Our exceptional service and products allow us a consistent A+ rating from the Better Business Bureau.
Leave a review for a recently completed project by visiting our Google page.
Just a few reasons why we stand above the rest:
  Committed to using the highest quality products
  Highly skilled and experienced designers and craftsmen
  Unwavering dedication to customer satisfaction
  Continuous contact with client as the job progresses
  Adding beauty and value to homes for over 30 years
Mission Statement
Lifetime Enclosures is a team of highly motivated individuals dedicated to the pursuit of excellence. Our Strength is generated from our clients, our people, our industry and our community.
Our Clients
We are committed to providing our clients with the highest quality products and serving them to the best of our abilities. We are fair, honest, courteous, and professional. We are sensitive to our clients' needs and dedicated to their satisfaction. Lifetime people are not satisfied until our clients are satisfied.
Our People
We are committed to the recruitment and development of the best individuals in our industry. Employees are treated with fairness and respect, receive opportunities for growth, and have a vested interest in the success of the company. We maintain an open-door policy at all levels, encouraging the flow of communication and exchange of ideas. We recognize the importance of each individual and his or her active role in the success of the entire company. Our employees are recognized for character, commitment, competence and the highest standards of performance under all conditions.
Our Industry
We are committed to leading the enclosure industry into and beyond the 21st century through integrity, innovation, client satisfaction, and financial strength. Our unwavering commitment to these core principles has positioned us at the top of the industry and our continued success will keep us there.
We're Involved
Awards and Credentials
  Award of Excellence Glass Enclosure Winner
  Award of Excellence Pool Enclosure Single Level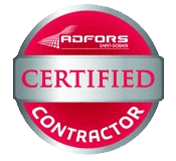 Contractor's License and Insurance