Outdoor Kitchens
Outdoor kitchens have exploded in popularity in recent years and it's easy to see why. Adding an outdoor kitchen is a super practical and luxurious feature that your entire family can enjoy together for many years to come. Not only are you creating a great space to entertain family and friends, you are also increasing the value of your home.
One of the perks of living in a warm climate is that you can practically use your outdoor kitchen year round. That being said, there are some important things to consider when designing your outdoor kitchen and dining area. Spend some time thinking about what you really want and need in an outdoor kitchen and how you will actually use the space.
Our Standard Design boasts a stainless steel grill, mini fridge and double door storage cabinet set into an aluminum framed, stucco finished cabinet.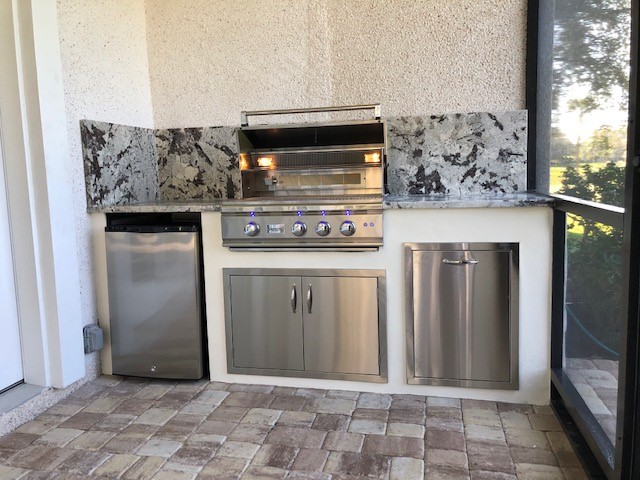 Our Premium Design is upgraded to include the addition of a Kamado Joe Smoker, a side burner and stone exterior. This upgraded "L" shape design also includes a built-in trash cabinet, a paper towel holder and an extra storage compartment for all your grilling supplies.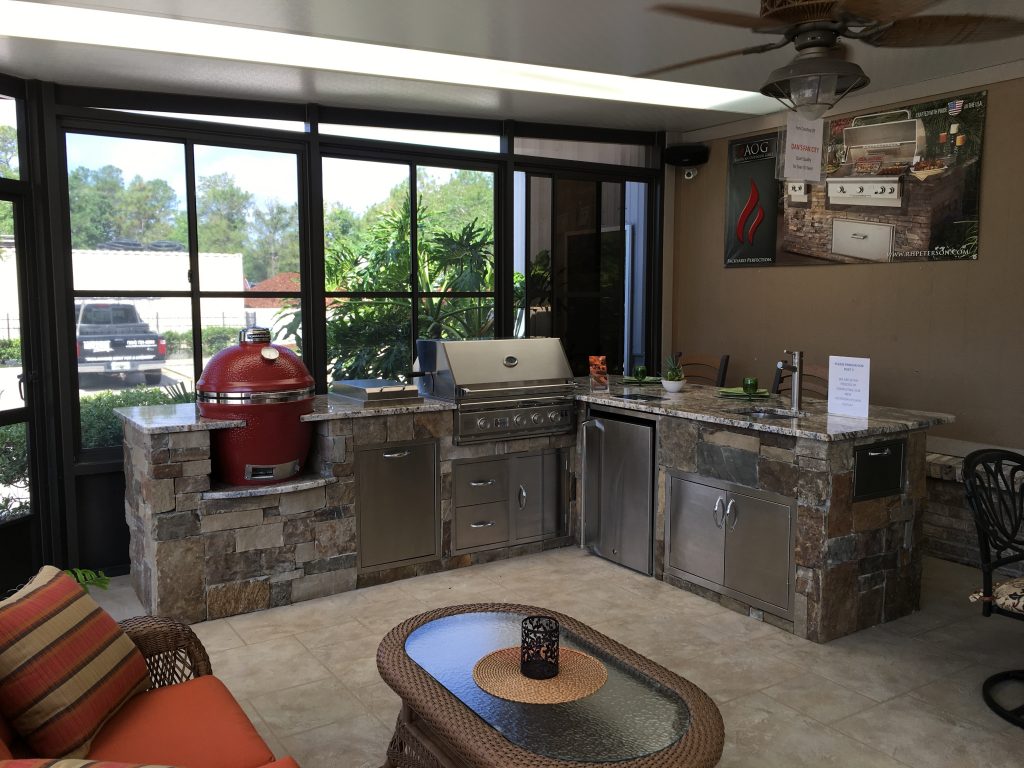 Our Luxury Design includes all of the bells and whistles and is guaranteed to impress with even more cooking appliances, counter space and storage. The design options are endless.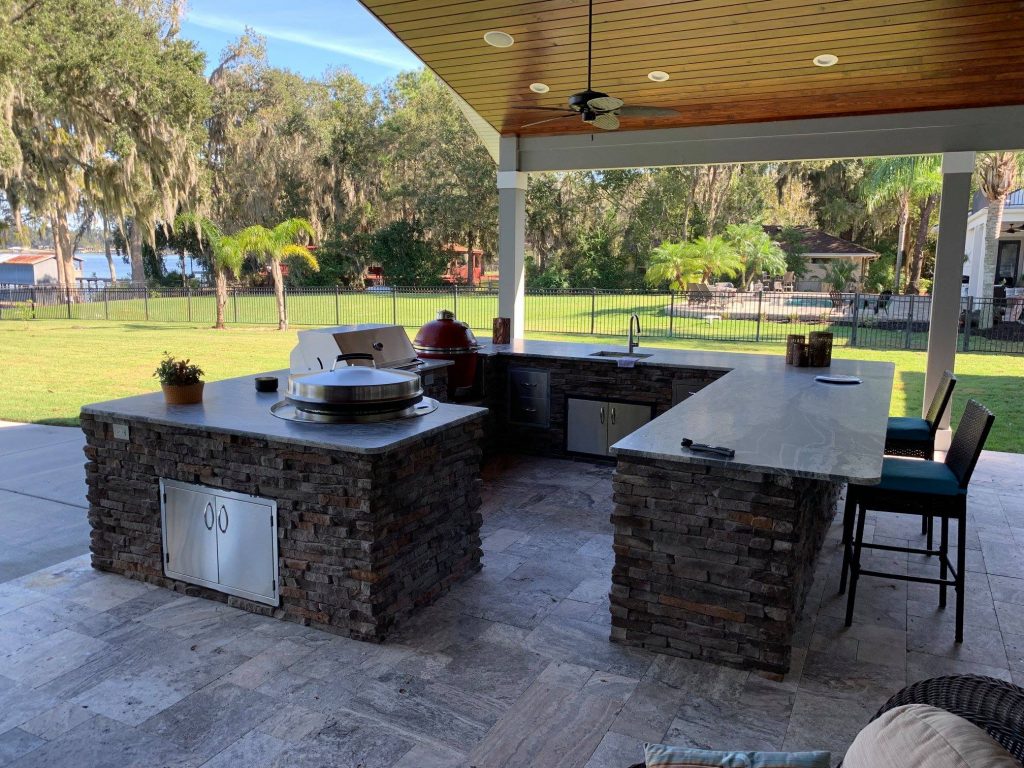 Consider how often you will use your outdoor kitchen and how many people you will be preparing food for. Will you be feeding large groups often? If so, you may want to consider a grill with a larger cooking surface so that you are not stuck at the grill preparing in small batches to feed large numbers of people rather than being able to sit with and enjoy your guests.
What types of appliances will you want to include in your outdoor kitchen? Will you be exclusively grilling or would you like to prepare other dishes outside as well? If so, a side burner would be a convenient accessory. Would you prepare breakfast in your outdoor kitchen if you could? Well you can if you have a griddle installed. Everything from pancakes to eggs and bacon! Do you want to keep hot foods warm? Including a warming drawer in your outdoor kitchen will allow you to keep already prepared food warm while other foods are still cooking.
You may also want to add a sink for the convenience of preparing food and washing your hands and not running back and forth between your indoor and outdoor kitchen.
You'll enjoy your outdoor kitchen for many years to come so investing in quality appliances is worth it. Stainless steel and ceramic appliances work great for all weather conditions, are durable, and low maintenance. It's always best to buy outdoor products that are designed to withstand the weather and outdoor elements. You will replace appliances intended for indoor use sooner and more frequently. Do not install cooking and cooling appliances right next to each other. Plan your zones accordingly for proper ventilation and cooling.
What types of things would you like to be able to store in your outdoor kitchen? Most outdoor kitchen designs include a refrigerator to keep drinks cool and cabinets for dry storage. A built in trash can and built in paper towel holder make prep work and clean up easy and convenient. If you enjoy hosting with cocktails, a built in icemaker might suit you just right! You can even add a drawer to store tools and utensils so you don't have to run back and forth between your indoor and outdoor kitchen.
Do you plan to eat outside? Pay attention to how the wind typically blows and position seating and dining areas to compliment the prevailing winds. Nothing is more annoying than trying to enjoy a nice evening outside and constantly having smoke from the grill blown in your face.
Do you want your outdoor kitchen to be close to your home or distinctly separate? It's a good idea to consider the views both from inside your home looking out, as well as from your outdoor kitchen. You likely wouldn't want to position your outdoor kitchen in a way that it would block a good view from your back porch or the inside of your home. And just the same, you probably don't want to be enjoying your outdoor kitchen while staring at your neighbor's jacuzzi. So consider the view when positioning your outdoor kitchen. If you plan to use your indoor kitchen for any food preparation or storage you will want easy access to the inside of your home from the grilling area. Where are your gas lines? If you plan to install a gas grill, and you do not want to have to run new lines, it's best to build your outdoor kitchen close enough to access your existing gas or water lines. Building close to your home allows for easy extending of the roof overhang to provide shade and shelter. Just make sure the grill is positioned near the end of the overhang and away from doors that lead to the inside of your home so that there is plenty of ventilation and smoke isn't being pulled into your home every time the door opens.
If you choose to position your outdoor kitchen further away from your home keep in mind you may have to run gas, water, or electric, which will add to the overall cost of your project. And remember to plan for shelter from the elements. Pergolas, umbrellas, and patio covers are all great options.
Choose easy to clean and waterproof counters and cabinets. When choosing flooring for your outdoor kitchen choose floors that are grease, fire, and stain resistant. This will reduce accidents and keep clean up easy.
Will you be wanting to use your outdoor kitchen after the sun goes down? Outdoor lighting extends the length of time you can enjoy your outdoor kitchen and offers safety for walkways, staircases, and grilling areas. And aside from the practical purposes of having lighting during the evening and nighttime, outdoor lighting will create a relaxing ambiance for your family and guests.
You will consume less energy cooking in your outdoor kitchen since you're not heating up the inside of your home to cook and then cranking down your A/C to cool it off. An outdoor kitchen is the perfect space to entertain friends and family. Taking the cooking outside usually means more space to work, which means more room to include family and friends in cooking. Hosting around your outdoor kitchen keeps everyone outside during events resulting in less traffic throughout your home and easier clean up.
*All outdoor kitchens are built with aluminum framing, granite countertops, 2 electrical outlets and come with a product warranty.
Lifetime Enclosures can design the Outdoor Kitchen of your dreams!!
Outdoor Kitchens, Grills – Portfolio Gallery
Outdoor Kitchens
Projects Gallery