Outdoor Kitchens
There is nothing like the aroma of an outdoor BBQ in the air on a beautiful afternoon or evening, enjoying your favorite meal with your family or entertaining your friends and neighbors, showing off your cooking skills!! Thanks to Florida's climate, residents are able to spend much of their time outside, enjoying the great weather. In fact, they are going a step further, not only bringing the living room outside, but also a second kitchen.
An Outdoor Kitchen is not simply a grill; it is a true functional kitchen that is made to withstand the elements for years to come. The Outdoor Kitchen is a gathering place for your family and friends to sit and socialize with each other and by integrating a seating or bar area into your Outdoor Kitchen, you are adding an inviting opportunity for your guests to interact with the cook.
Lifetime Enclosures Outdoor Kitchens offer a combination of the best components available. These high quality components include:
Customize Your Outdoor Kitchen
Gas Grills
Constructed in all #304 stainless steel and designed with careful precision to ensure optimal airflow and even heating.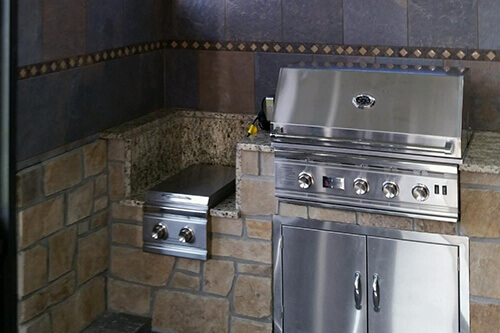 Gas Side Burners
Used for cooking sauces or heating foods that require lower, more controlled temperature than a grill; it offers the convenience of range top cooking and grilling simultaneously. (Single, Double, Sear and Power available)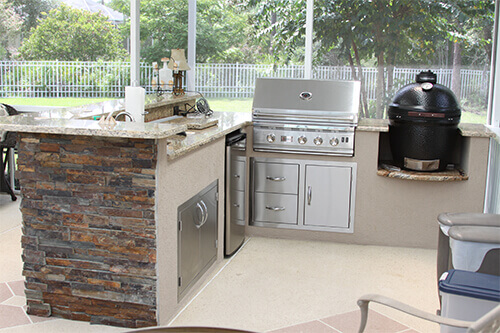 Kamado Joe
A thick-walled, heat-resistant shell (dome shaped) that locks in smoke and moisture at any temperature with a large cooking surface.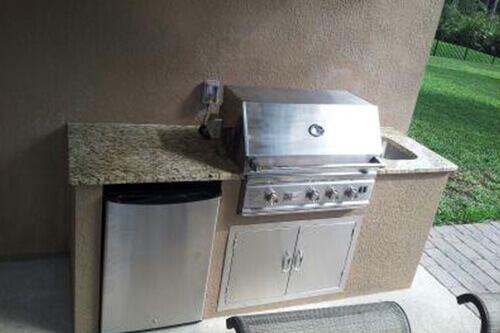 Refrigerator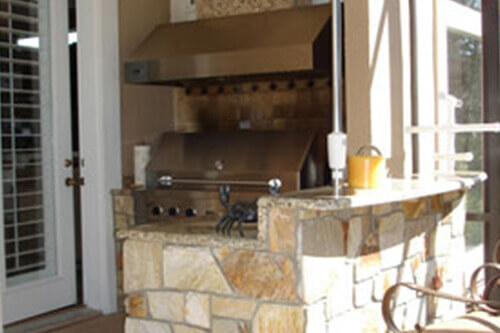 Hoods (Ventilation)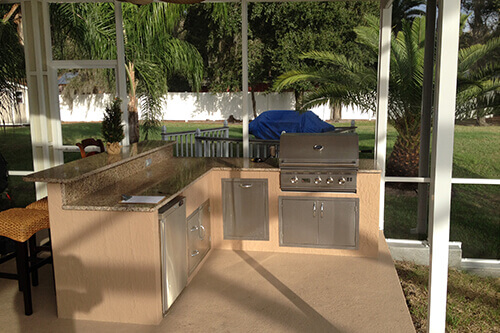 Stucco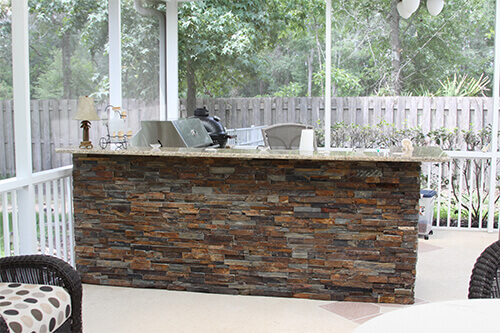 Stacked Stone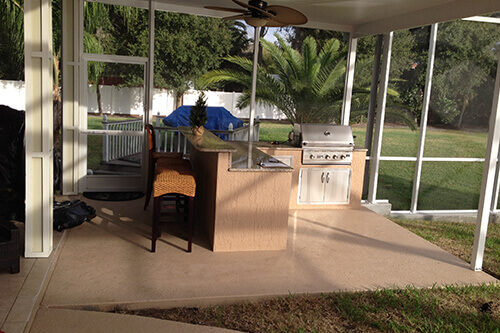 Bar Extensions
Electrical Outlets
Propane or Natural Gas
*All outdoor kitchens are built with aluminum framing, granite countertops, 2 electrical outlets and come with a product warranty.
Lifetime Enclosures can design the Outdoor Kitchen of your dreams!!
Outdoor Kitchens, Grills – Portfolio Gallery
Outdoor Kitchens

Projects Gallery